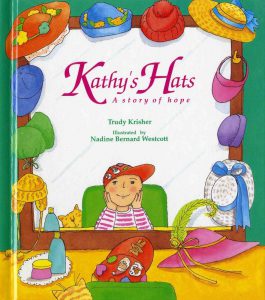 Kathy's Hats begins as Kathy discusses her fondness for hats: she wore a hat when she was a baby and still wears them during the winter and the summer and at Easter.
Yet when Kathy is diagnosed with cancer and her chemotherapy treatments make her hair fall out, Kathy's perspective on hats changes. Her treatments are difficult and painful. Having to wear hats is another aspect of her cancer treatment which Kathy resents.
Finally, Kathy's mother explains that the young girl can think of her hats as thinking caps which can help her fight her disease. Kathy finds this advice helpful and changes her attitude about hats.
Reviews
 A "sensitive tale of a young girl and her family dealing with cancer." — Eastern Washington Book Review Council
"An important book dealing with what is generally taboo in children's literature: life-threatening illness." — Read-Aloud Review
 "A delicate subject is treated with sensitivity and even wit." — Monterey Peninsula Unified School District
 "Presents the concept of illness in a light and, if possible, pleasant way – always hopeful." — Essex-Hudson Regional Library Cooperative
Buy Now