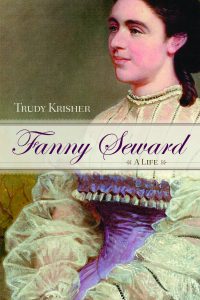 On April 14, 1865, the night of President Lincoln's assassination, Booth's conspirator Lewis Powell attempted to assassinate Secretary of State William Seward in his home just blocks from Ford's Theatre. The attack, which left Seward and his son seriously wounded, is recounted in poignant detail in Fanny Seward's diary.
Fanny, the beloved only daughter of Seward, was a keen observer, and her diary entries from 1858 to 1866 are the foundation of Krisher's vivid portrait of the young girl who was an eyewitness to one of the most tumultuous periods in American history. Fanny offers intimate observations on the politicians, generals, and artists of the time. She tells of attending dinner parties, visiting troops, and going to the theater, often alongside President Abraham Lincoln and his wife Mary.
Through Fanny's writings, Krisher not only skillfully brings to life the events and activities of a progressive political family but also illuminates the day-to-day drama of the war. Giving readers a previously unseen glimpse into the era, Fanny Seward: A Life broadens our understanding of Civil War America.
Buy Now