Trudy Krisher has a reputation as a trailblazer in writing and speaking out about sensitive issues surrounding self identity, race, and gender through her fictional works. Similar to her protagonists Maggie from Spite Fences and Pert from Kinship, Krisher grew up in the South. Born in Macon, Georgia, in 1946, she was raised in South Florida.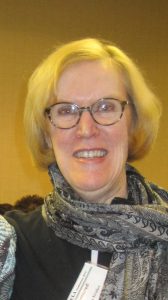 "It doesn't take much to get me inspired!" says Krisher, "Usually, I want to write about people who are living out the questions on my mind." 
In each of her books, Krisher wrestles with difficult questions that each of her heroines needs to face. For Spite Fences, Maggie Pugh asks herself, "Why do people try to wall each other out with fences?" 
"In my novels, I enjoy exploring a variety of artistic approaches that manifest themselves in unique creative forms. However, most important to me is always the audience for whom I write. Speaking to audiences of young adults–offering whatever insights I can about the world they will soon be entering– is among my most enjoyable experiences." 
Trudy Krisher is the recipient of an International Reading Association Award. Her books have been named ALA Best Books for Young Adults; a Jefferson Cup Honor Book of the Virginia Library Association; a Parents' Choice Honor Book; a winner of The Tennessee Volunteer State Book Award; and the Amelia Bloomer Project Recommended Books and more.