I was recently asked to submit an article to a children's book forum. The forum was featuring beginning readers for children. Why me? I had only written one early reader – BARK PARK! – so I wondered why I'd been asked.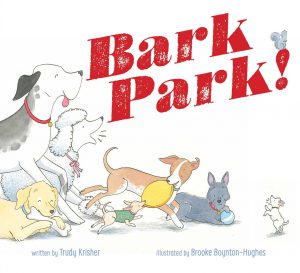 After all, I usually write novels (SPITE FENCES; KINSHIP; UNCOMMON FAITH; FALLOUT) and I'd written a scholarly biography with scads of footnotes (FANNY SEWARD: A LIFE).
Still, BARK PARK! did win an Ohioana book award and an Angie Karcher Best Book of Rhyme, notable honors. But I'd only turned to writing a beginning reader because I now had grandchildren, and my greatest pleasure had been watching them learn to read. In fact when granddaughter Kasey, at five years of age, read BARK PARK! aloud for the first time, my heart swelled with joy! It took me back to my own young daughter Laura whose first all-by-herself read-aloud had been GO, DOG, GO! These were lasting memories.
But I now see that my writing connections to children's books were there all along.
I belong to a family of dog lovers – Oscar, the black cocker spaniel; Buddy, the brown-and-white beagle; Riley, the buff cocker spaniel; Buffy, a black boxer mix; Milo and Max, Golden retrievers.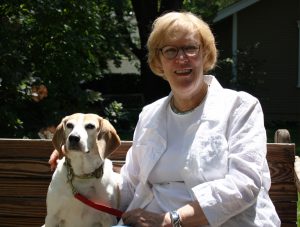 I have always loved children. I love their imaginations. I love their openness to new ideas. I love their lack of prejudice. I love their hugs and kisses. I love that they have not yet been ruined by the world – in them, I see hope for a better future.
So it was only natural for me to combine my two great loves – dogs and children – with a picture book of my own. BARK PARK!, which won an Ohioana book award in 2018, was inspired by a trip to a San Francisco park with my daughter and Riley, the buff cocker spaniel. The lines about dogs "riding and sliding," "running and sunning" came from that trip to a park with Riley.
But there's one more thing to know about me. As a lifelong writer and college writing professor, teaching and learning have been a third great passion. There is deep satisfaction in helping learners of all ages experience the joys of reading and writing. Especially those who are just starting out.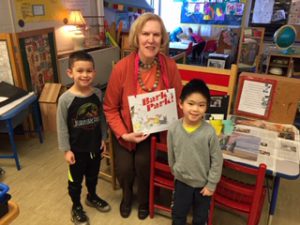 So I took up the challenge of contributing to that children's book forum. Perhaps, after all, I AM the right kind of contributor!